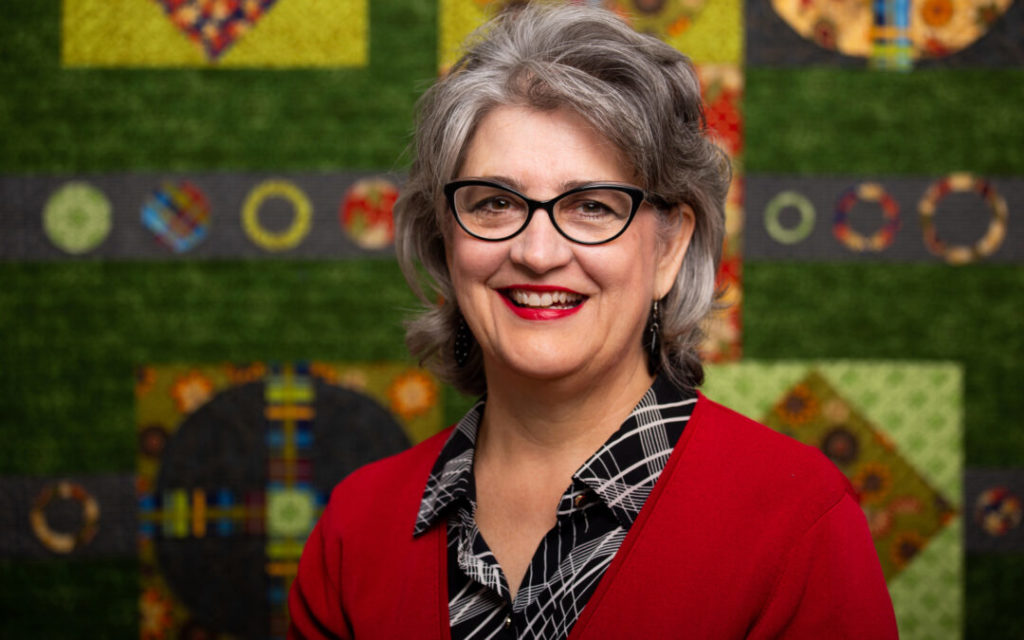 The colorful quilts and delightful conversation at May's meeting brought some needed cheer to the dreary KC weather!
The Historian Committee was back with another look into the guild's past—so funny to hear the guild's concerns about needing a larger meeting space in 2014. A new venue search committee is working on the same issue again today. Jessica Ray has stepped up to take on that search. Thank you, Jessica!
The Grants & Scholarships Committee announced their latest recipients. Ann English will study Marti Michell's Starry Path pattern; Chris Jacobs will continue to develop her longarm quilting skills; and Tessa Williams will learn about designing patterns. Congratulations to each of the recipients! We can't wait to hear more about what you've learned.
Members continued the tradition of sharing spectacular creativity during the monthly show and tell. Kelly Lautenbach unveiled a new quilted KCMQG logo banner she created with friends. It will be exciting to see the banner at next month's Kansas City Regional Quilt Festival and beyond!
From machine binding to prairie points, false binding, facing, floating flanges, edge circles, ball fringe, and more, Jane Bromberg's "Finishing Up!" presentation had the whole room buzzing with new ideas for finishing projects. She showcased a myriad of ways to bind quilts and shared samples from her own collection. Jane reminded us all, "It's your quilt. You can make it however you want to make it." And, she emboldened us to try new things saying, "85% of quilts never see the quilt police!"
Due to Kauffman Foundation rules, Jane wasn't able to sell her finishing techniques booklet. Jane's booklet is available for $10. To get your copy, email Jane at janebromberg@ gmail.com. Jane can deliver booklets to buyers at the June meeting.