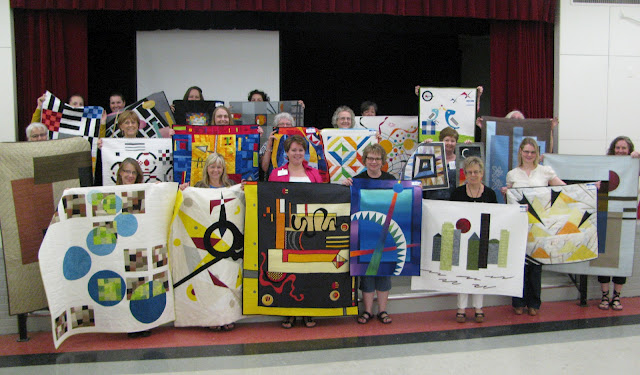 Members of the Kansas City Modern Quilt Guild recently participated in a Kandinsky Challenge. Nine Kandinsky paintings were presented and quilters created a quilt inspired by the painting of their choice using solid fabrics. Many of these quilts are being shown in an exhibit at the Machine Quilters Showcase at the Overland Park Convention Center in Overland Park, Kansas. If you are in the area, take some time to visit the Showcase. There are so many beautiful quilts and if you are interested in machine quilting, you'll be amazed by the details and artistry in each quilt. The show continues through Saturday.  
Overland Park Convention Center
6000 College Blvd.
Overland Park, Kansas Friday, May 18 – 10 AM – 6 PM
Saturday, May 19 – 9 AM – 3 PM  
If you can't make it to the show, enjoy Carla's photographs of each quilt at Lollyquiltz.